A Day in the Life of a Harry Potter Musician
A few months ago we were lucky enough to spend a little time in the company of a musician who has had what many young classical musicians might consider the epitome of a musical career. Oh, and he also happens to be one of our very own BDMA Grandads – Francis Saunders!
We spent a couple of hours with Francis hearing all about his musical education, his teachers, the exciting recording sessions and so much more.
Francis' musical life begun as a chorister at St Paul's Cathedral School where he then began learning the cello, aged 9.
Between then and now, among many other things, he has studied cello with some of the greatest teachers, he has travelled the world, been one of the longest standing members (37 years!) of one of the world's most prestigious orchestras, the LSO, played on some of the most iconic movie soundtracks (including Harry Potter!) and been an important figure in education and outreach programmes.
We couldn't resist asking him about what it was like to play on some of the most famous movie soundtracks…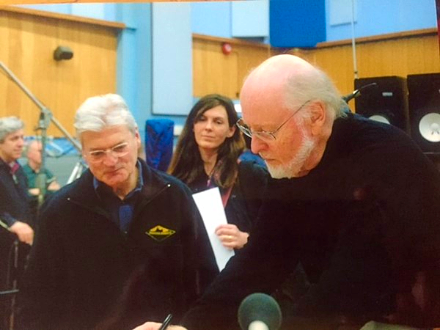 Francis with composer John Williams.
——————————————–
We are desperate to ask you some questions about playing on the Harry Potter score! Tell us – how big was the orchestra?
Probably about 70 – 80… John Williams [the composer of the original film] conducted that session!
What was he like?
Everyone loved and respected him.
Any unusual instruments in that score?
Not as such but it was very percussion heavy. Some soundtracks do use less typical orchestral instruments like sax or recorder or cor anglais…
I'm always curious, do you ever get film scores in advance?
We do not, we get them on the day [of the recording]!
How long do you get to rehearse before recording?
Well, it depended on the conductor…but never very long.
How many takes would you do for the soundtracks?
Sometimes one take, sometimes more.
Apart from HP, what other soundtracks have you played on?
I've played on the Star Was films in 1978/79, Who Framed Roger Rabbit and Indiana Jones: Raiders of The Last Ark.
Any particularly juicy cello parts?
Raiders was especially good.
And finally what advice would you give to your younger self, or an aspiring musician?
It's jolly tough!  When I retired from the LSO, 200 people applied for my seat [he retired in 2007]. Keep improving and do as much studying as you can. Go to different people as they will offer and teach you different things. It's also really important to be a team player and get on with people. Be organised and take your self and your work seriously and you will be fine.
——————————————
It is always a gift to meet any musician who has dedicated their whole life to their craft. We want to extend our warmest thanks and appreciation to Francis for taking the time to talk to us. He gave us such an inspiring insight into his world of being a high flying musician, a teacher, an orchestral player and so much more, most of which we couldn't fit into this newsletter and wish we could have – rest assured it was magic to hear about.
---